Dreaming of building a beautifully constructed deck that perfectly matches your home's aesthetic? Then look no further than our team of experts at Blackrock Decks. Our team specializes in custom decks and more. However, building exceptional custom decks is only part of what we pride ourselves on—we prioritize exceptional customer service, ensuring that each of our clients gets the personalized attention they deserve for the best final project. Whether building a new deck or revamping an existing one, here's why you should choose Blackrock Decks in Utah for your next project.
Blackrock Decks Comes With 40+ Years Of Experience
Our team boasts over 40 years of expertise in building decks, pergolas, patio covers, and custom roofs. With our wealth of knowledge and creative design solutions, we can tackle any deck challenge, no matter how complex it may be. We also provide our customers with an industry-leading craftsmanship warranty, as well as an up to 10-year Trex labor warranty. Our skilled craftsmanship has earned us numerous awards, and our crew members are all Trex Pro Certified and receive ongoing training to remain at the forefront of industry standards. When you work with Blackrock, you can trust that you're getting the very best in quality and service.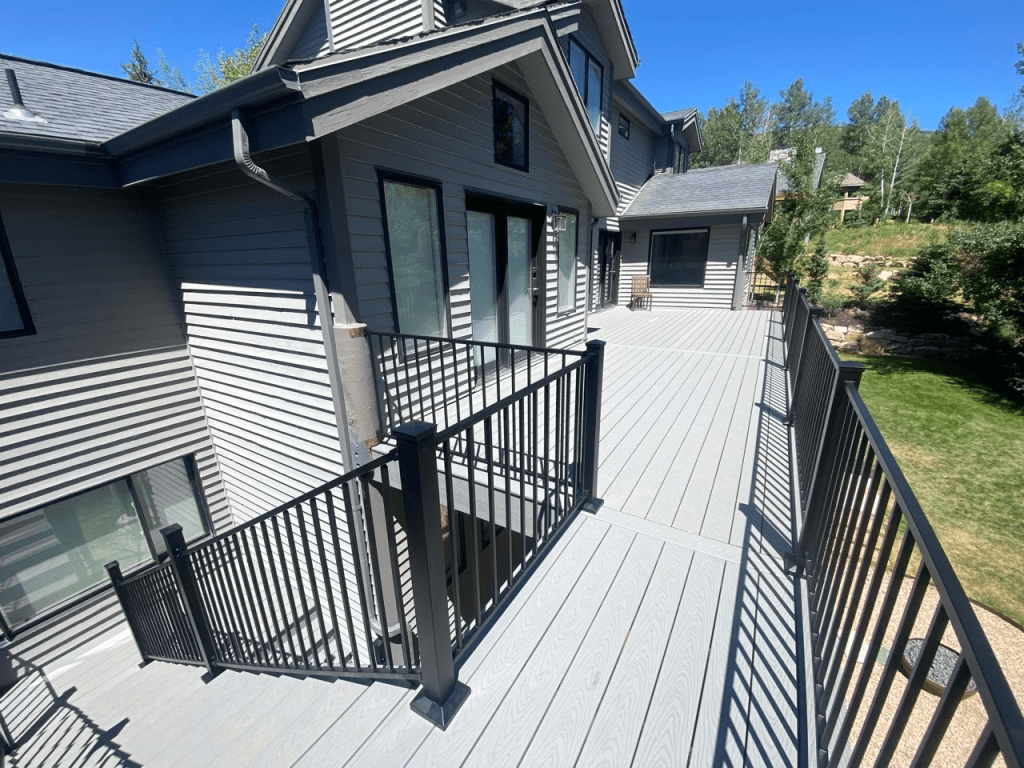 The Blackrock Decks Crew Can Handle All Permitting
It's important to consider all of the factors beyond just the construction itself when choosing a deck builder—this is where Blackrock Decks truly shines. Not only do we pride ourselves on our quality construction, but we understand the importance of fully navigating the permitting, approvals, and engineering process so that you can focus on the other important things in life. Additionally, remember that up to 10-year Trex warranty mentioned above? We handle the registration of that so you don't have to—we're truly full service from start to finish!
Our Decking Standards Are Other Deck Company's Upgrades
When it comes to decking standards, we refuse to settle for less than the best. Our commitment to quality means that what we consider standard, other decking companies view as upgrades. From utilizing hidden fasteners instead of basic deck screws with visible heads to providing surface deck borders instead of unfinished cut edges, every aspect of our decking is carefully constructed with the utmost attention to detail.
We offer surface deck posts with multiple upgrade options, and we use fascia material and approved fascia screws, rather than simply utilizing decking boards and normal screws. Additionally, our minimum 6×6 posts provide unmatched stability, while the waterproof taping on top of all framing ensures your deck remains secure and protected for years to come.
Blackrock Decks Is A Top-Rated Deck Builder In Utah
Looking for a reliable deck builder in Utah? Look no further than Blackrock Decks. With hundreds of satisfied customers and a focus on quality over quantity, you can trust us to deliver exactly what you paid for. Our team is dedicated to crafting beautiful and functional decks that will enhance your outdoor space for years to come. Don't settle for anything less than the best— choose Blackrock Decks for your next deck project!