The weather is warming up and that means it's time to start thinking about upgrading your outdoor living space! One of the best ways to transform a backyard is by remodeling a deck. Not only can an upgraded deck increase the value of a home, but it provides homeowners with a wonderful outdoor space to enjoy with family and friends. If you're looking for one of the best deck remodeling materials, Trex is a fantastic material to consider. Not only is it low-maintenance and durable, but there are dozens of Trex decking colors and designs to choose from. From warm, earthy tones to bold, modern hues, here are a few Trex decking design options you should steal for your next deck remodel.
Trex Select in Saddle With MetalWorks Railing
Looking for an eye-catching addition to your home? Look no further than Trex Select in Saddle paired with MetalWorks custom horizontal railing. The warm, natural hues of the "Saddle" color scheme create a subtle elegance that effortlessly enhances any landscape. Plus, the sleek lines of MetalWorks' horizontal railing provide homeowners with a touch of sleek sophistication. This winning combination is capable of making any outdoor area the hit of the neighborhood!
Trex Transcend in Rope Swing With Precision Railing
Trex Transcend in "Rope Swing" is one of the hottest color choices when it comes to deck remodeling this season. Not only is Trex Transcend a timeless, durable decking material, but the cool, chic tones of the "Rope Swing" color scheme will never go out of style. Whether you want to create a relaxing spot for sunbathing or a space for entertaining guests with a cocktail, this pairing was made to transform any outdoor space into an outdoor haven.
Trex Lineage In Jasper With Trex Transcend Railing
For homeowners looking to enhance visual appeal, Trex Lineage in "Jasper" paired with Trex Transcend Railing is an ideal option. The rich tones of the "Jasper" color scheme provide a stunning foundation while the curved edges of the Transcend railing system add a touch of striking modern elegance. However, what makes this railing truly special is its ability to be customized in every way imaginable—homeowners can personalize everything from the balusters to the post-sleeve caps.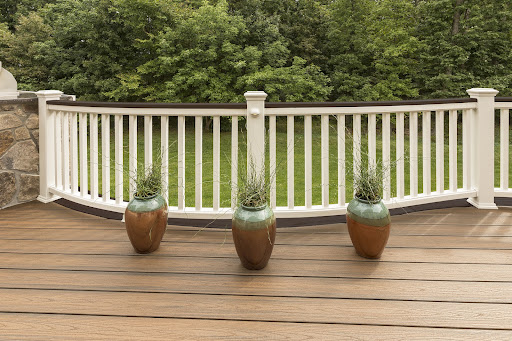 Trex Transcend in Havana Gold With Mesh Trex Signature Railing
For those who dream of sun, sand, and palm trees, why not turn your outdoor space into an oasis? Trex Transcend in "Havana Gold" is the perfect way to bring the island spirit to a landlocked backyard. The vibrant hues and streaks in the "Havana Gold" color scheme mimic the look of natural hardwood, while still offering the durability of composite decking. For an extra touch of style, consider pairing "Havana Gold" with Trex Transcend mesh railing—an unexpected combination that gives your space a resort-like feel.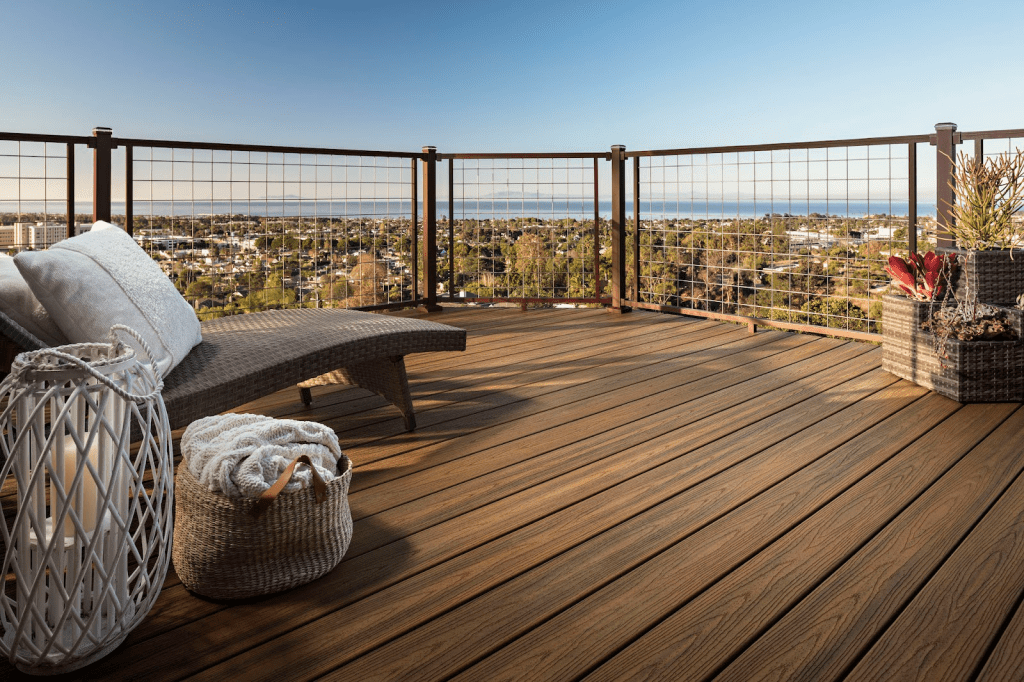 Contact Us For More Information On Trex Decking Colors
Transforming your outdoor living space with a freshly remodeled deck can provide a great return on investment in terms of both added value and personal enjoyment. Whether you're drawn to the sophistication of Trex Select in "Saddle" with MetalWorks railing, the island charm of Trex Transcend in "Havana Gold" with mesh railing, or have a creative vision all your own, our team at Black Rock Decks can help bring your dream deck to life. Contact us today!